Pilgrims' Progress Apr 7
Our last session of our Lenten Study, with Imam Abdul Waheed.  What a journey he has taken with us. If you have not yet joined us, please do so for this final conversation. Imam Waheed has expanded our understanding of the Muslim faith and engaged us in conversation of how we might live our faiths together, drawing one another into each other's lives and communities, as neighbors and friends.

Our session: Islam's Presence/Relationship in Durham

Along with this enriching conversation, we will break bread and share a meal together. Come, join us at 5:45pm. Some folks are even gathering earlier at 5:30, so as to break fast before our conversation begins. You are welcome to do so too.
Sunday's Scripture – John 12:1-8
1 Six days before Passover, Jesus went to Bethany, the village of Lazarus, whom Jesus had raised from the dead. 2 There they gave a banquet in Jesus' honor, at which Martha served. Lazarus was one of those at the table. 3 Mary brought a pound of costly ointment, pure nard, and anointed the feet of Jesus, wiping them with her hair. The house was full of the scent of the ointment. 4 Judas Iscariot, one of the disciples—the one who was to betray Jesus—protested, 5 "Why wasn't this ointment sold? It could have brought nearly a year's wages, and the money been given to poor people!" 6 Judas didn't say this because he was concerned for poor people, but because he was a thief. He was in charge of the common fund and would help himself to it. 7 So Jesus replied, "Leave her alone. She did this in preparation for my burial. 8 You have poor people with you always. But you won't always have me."
The Crop Walk is here!  Please consider supporting the walk in one or more of the following ways:
-*Walking! Join our Pilgrim team! The more people who walk the greater we make a statement that hunger is both a local and global issue and that we care about our neighbors both near and far away
-Sponsor a Pilgrim Walker or our whole team! Give a donation to a Pilgrim Walker or give to our whole Pilgrim team!
-Help out at the Registration table on Sunday mornings! Volunteers for registration, donations, and helping with T-Shirt purchases/orders are appreciated!
-Support the overall cost of the Walk and buy a Walk T-Shirt! T-Shirts cost $3 and help support the administrative cost of the Walk and allow all proceeds collected to go directly to hunger relief!
BASIC WALK INFO:
WHY      To End Hunger here in Durham and around our World
DATE     Sunday April 7 (Palm Sunday)
** TIME     1:45 pm Pre-Walk Activities and Gathering Time
2:30 pm Walk Begins
WHERE Duke University Chapel
DISTANCE 4.8 miles
*Not in-town for the Walk on 4/7?
Even if you can't still walk with the team you can still sign up on-line, ask for sponsors, and walk when you can to raise funds for people who struggle with poverty
Check out the Durham CROP Hunger Walk webpage for lots of great info!
http://durhamcropwalk.org
Or go directly to:
Registerfor the Walk (Thanks for joining our team!)
https://www.crophungerwalk.org/durhamnc
DONATE to the Walk (Thanks for your gift!)
https://www.crophungerwalk.org/durhamnc/Team/View/96425/Pilgrim-UCC 
***Our own Durham county poverty rate is over 16% (more than the state average) with some estimates indicating the poverty rate above 17% and the percent of people in Durham county living in deep poverty is over 8%.  When we give we're improving lives and changing the futures of our Durham neighbors.
Thank you Pilgrims for all that you do!
Peace!
Ellen Metcalf
Pilgrim has had a Girl Scout troop meeting here for many years.  Many of those years it was led by Pilgrim Gloria Sanchez-Lane.  Recently "our" Girl Scouts held an event here.  I'll let their leader, Sandra Valnes Quammen tell you about it:

Hi Pilgrims!

I just thought I'd send along a note about our Creek Week creek cleanup on the church grounds on March 17th.  The girls learned about watersheds and we talked about where the water from the two small tributaries on the church grounds goes to and how it eventually ends up in the ocean.  Then we cleaned!  We had 13 girls and 4 adult volunteers, and spent 45 minutes cleaning up all around the church, and pulled 4 bags of trash and 3 bags of recycling out of the creeks and around the grounds!  There was some FASCINATING trash in the creeks. The girls were most intrigued by the car parts (belts and such) that were probably from a fender bender on Academy, but they also found a frying pan, the handle of a saw, several abandoned basketballs and soccer balls, and an enormous feed bag that one of our littlest girls could have fit inside.  Check out the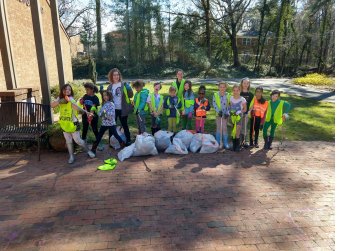 photo of some very proud (and frankly, pretty dirty, when all was said and done) kiddos!
Thanks for letting us participate in this event and help clean up litter out of our urban waterways on your grounds!
Thanks,
Sandy
Common Life Church & Farm Easter Egg Hunt!
Pilgrim's mission -church, Common Life Church & Farm, and Sprout invite you to join us for a fun afternoon for the whole family!  We'll begin the egg hunt at 2:15 pm. Inside the eggs, children will find tickets they can use to participate in carnival-style activities after the hunt. Carnival activities will include games, crafts, face painting, and opportunities to feed the sweet donkeys and sheep.

This event is geared toward children ages 2 -10. Don't forget to bring your own Easter basket!

The event is free, but registration is required due to limited parking. Carpooling is encouraged. For more information or to register or volunteer to help with the hunt, please visit https://www.eventbrite.com/e/community-easter-egg-hunt-party-tickets-58811061468?aff=ebdssbdestsearch
Help for those who mourn: Growing thru Grief offers year-round support for those who have lost a loved one. Aaron Klink is leading the spring six-week series that began on March 12 on the Introduction to Grief. His remaining topics are:

April 9 Relearning Ourselves
April 16 Relearning the Vision for the Future

Please see the flyers on our bulletin boards or the latest newsletter for more information.  Growing thru Grief is a free, open, confidential program sponsored by a coalition of area religious and civic organizations to provide support and comfort to those who mourn. Meetings are held year-round on Tuesdays (except for holidays) at St. Paul's Lutheran Church, 1200 W. Cornwallis. We gather at 4 pm for registration, coffee, and cookies; the meeting starts at 4:30 and ends by 6.